Like thousands of football-lovers in the world, my passion during lockdown was Football Manager 2020. I built my dream team, reaching the Champions Cup Final in the year 2021. Childishly, I tried to recreate the pre-match build-up as much as possible: playing fan-favourite tunes, looking up my team's chants on Youtube, dressing in my team's colours. Perhaps the yearning for the return of football had brought me to a state of delirium. Of course, I won. I expected a relaxed summer in the game, with few planned changes to be made to my squad. Yet, there was one more competition to be played: the Club World Cup.
It's true. There is a Club World Cup scheduled for the summer of 2021 in China. Updates on the planned competition have disappeared, to the point that no one knows if it will genuinely happen. It is not to be anything like the bore of the yearly Club World Cup held in Qatar or Japan. Rather, FIFA wishes for it to truly establish itself as the most important club competition in the world, for it to be drawn in parallel to the FIFA World Cup in terms of magnitude. As one would expect. extremely high bonuses are on offer for teams competing. As always, these proposals do not come without its critics: European organisations, like UEFA or the European Club Association, despise the idea of a competition that might trump the UEFA Champions League; some journalists fairly point out that inequalities in football may be exacerbated as a consequence of this competition; loyal fans worry of the distances they might have to travel to watch their team play; players worry about congested calendars and the excessive toil put on their bodies. Certainly, these are fair concerns that must be understood. However, those arguments might be considered insignificant when greater injustices in world football are considered.
This is what other footballing continents want. South American leagues crave being able to fairly compete with their European counterparts. As someone who lives in the UK, but who has a Brazilian family and Brazilian friends, the perceptions of the yearly Club World Cup are vastly different when comparing both countries. On the European side, viewers perceive the competition somewhat as a friendly competition, whereas most Brazilians view it as a chance to be declared as the best team in the world. With regards to internationals, every football fan is synchronised in the opinion that the the FIFA World Cup is the most prestigious competition to be won by a country. So, is it acceptable for football-watchers to perceive club competitions differently? Who is more correct? Is it fair for Europeans to dismiss competition from South Americans or Africans in order to protect themselves? Just as Trotsky produced 'In Defence Of Marxism', produced in order to keep the Marxist dream alive as war in Europe broke out, let me present to you a "defence" of the Club World Cup. By investigating the differences in perceptions between continents, and by exploring the reasons of why a credible Club World Cup does not exist, we might understand why a structured and universally accepted Club World Cup is vital for the football community. History might be able to lend us a hand.
In the early years of the 20th century, football had become ubiquitous in England and parts of Europe. In order to boost the finances of tradesmen and help fund the local game, English football teams would tour the world, playing exhibition matches on foreign terrain. Destinations included mainland Europe, North America and South America. As Chris Watney's documentary tells us, Corinthian Casuals toured countries like the USA , Hungary, Spain and Brazil in the early years of the 20th century. They proved to be so eminent worldwide that Real Madrid adopted the white colours of their shirt, and Corinthians Paulista robbed their name. Exeter City were just one of many teams to tour South America. In 1914, they were touring Argentina. On their return, they were invited to play in Rio de Janeiro for Brazil's first ever international football match. Some Exeter City players had already been arrested in Rio on their way to Argentina, as they had been taking an illegal dip in the sea. Fortunately, the local police let them continue on to Buenos Aires. This time, Exeter could not shame themselves. They were experienced British players effectively representing their country. Yet, they lost 2-0. The English played like the English do. Friedenreich, the Germanic and legendary mulatto striker who scored over 1000 goals in his career, lost two teeth in the match. Brazil showed them another way of playing football. As time would tell, club football was just the first step in the production of football's modern, global identity.
The first organised "international" cup came in 1908, organised by Italian newspaper Stampa Sportiva. This was competed by Swiss, German, French and Italian teams in Torino. However, it was not deemed "international" enough without an English team. Thus, an agreement was made between Sir Thomas Lipton and the Italian FA to add an English team. The tea merchant (Yes, Lipton Ice Tea roots from him) invited West Auckland FC, a team of miners. As it suggested on some sources on the internet, it is rumoured that Sir Thomas Lipton specifically requested a team with the initials "W.A", perhaps wishing that Woolwich Arsenal would come to play in 1909. Whether this fable is true or not, no one is certain. Nevertheless, West Auckland won the tournament in 1909, and again in 1911. Though, slight confusions over what constituted prestige, coupled with possible uncertainty on the correct participation of specific clubs, set a pattern that would reappear in over the course of the century.
It took years for discussions about an official Club World Cup to commence. In a period where Brazil wanted to export their cultural identity to the rest of the world, Mario Filho, editor of newspaper Jornals dos Sports, brought about the idea of starting a Club World Cup (few other internet outlets suggest it was Daily Mirror journalist Frank Thompson's idea). The 1950 FIFA World Cup interested audiences worldwide, so the hope was that a club competition at this level could be as successful. Mário Filho's ideas had support from the likes of Barassi, the then president of the Italian FA, and Sir Stanley Rous, the secretary for the English FA and future president of FIFA. Most significantly, Jules Rimet, the French FIFA president between 1921 and 1954 who had successfully brought the FIFA World Cup to fruition, also supported the idea of a Club World Cup. However, as Eduardo Coelho writes in his book '1952- Fluminense Campeão do Mundo' , Jules Rimet believed that the plans for a Club World Cup to be held in Rio de Janeiro did not require the approval from FIFA for it to be successful. In other words, Rimet and FIFA never officially approved the competition, which became known as 'Copa Rio'. The French had always been successful in creating global sporting competitions, just as Pierre de Coubertin had brought the Olympic Games to life in 1896. Could Mário Filho, along with other supporters of his idea, successfully create an international club competition, without the full support and help of FIFA?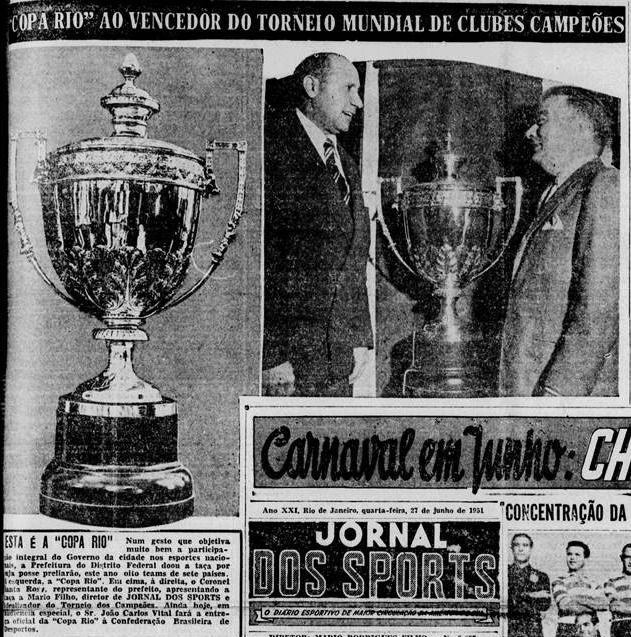 With FIFA not assuming full organisation of the competition, there seemed to be other problems surfacing. Financial structures proved to be one of them, with only 5% of the revenues from each ticket sold being passed over to the football associations participating in the competition. The Confederação Brasileira de Desportos, responsible for organising the tournament, also had barely communicated plans with FIFA. The distance between FIFA and Copa Rio had become transparent. Meanwhile, Barassi failed to invite AC Milan due to calendar issues. Clubs from Spain and Switzerland also did not attend. Albert Laurence, a writer for Jornal dos Sports, had previously written 'one cannot conceive of the first Copa Rio without the presence of a qualified English football team'. In the same article, he considered which English clubs could be invited to play in Rio, ranging from Manchester United to Wolverhampton Wanderers. However, no English team took part. Tottenham Hotspur, the champions of England at the time, declined the offer to participate. French champions Nice were instead invited. For a competition that had at first appeared to be an internationally important competition, it catastrophically established itself as anything but that.
Palmeiras beat Juventus in the final, with the second leg of this game attracting 100,000 attendants. Mário Filho headlined an article 'Goodbye to Brazilian football from the 16 July', celebrating its assumed venture into a world of domination. Palmeirenses, until today, dispute that they have won a Club World Cup. The argument has even reached Infantino, the current president of FIFA. When asked about the matter, he laughed it off. Fluminense won the title a year later, beating Corinthians in the final. In fact, the competition had originally been scheduled to be held in 1953, but was pushed forward by one year as Fluminense were celebrating their 50 year anniversary in 1952. In their museum, Fluminense showboat the trophy, with a banner reading 'Champion of the World 1952' also to be found at their home matches in the Maracanã. There are FIFA documents, allegedly, that confirm Fluminense and Palmeiras have won world titles.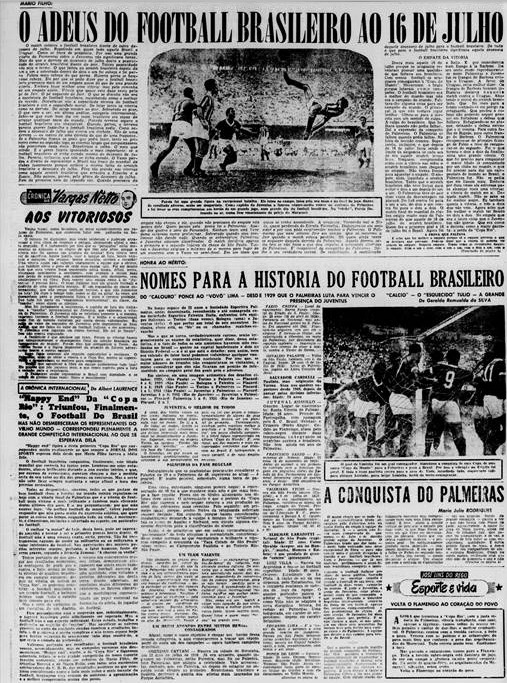 The Copa Rio had somewhat proven to be a failure. Calendar problems, chaotic organisation and disagreements over financial structures were just some of the reasons for the mess. However, hopes for a version of a Club World Cup did not die. João Havelange, the future corruption-inducing president of FIFA, was instrumental in creating the Intercontinental Cup. It was a competition to be exclusively competed between winners of the Copa Libertadores and the European Cup, with each leg to the game to be played at either of the finalists' venues. If the aggregate score was a draw, a playoff would be played in another country. The competition, at first was a success, with Pelé's illustrious Santos side, nicknamed "White Ballet", beating Benfica and AC Milan in 1962 and 1963 respectively. However, when Argentine teams reached the final, it took a turn for the worst.
After 170,000 people had gone to the first leg at Hampden Park, Celtic travelled to Argentina to play Racing Club in a game which saw a total of 6 red cards. Racing beat Celtic in a playoff fixture in Montevideo, following an aggregate draw across the first two legs. The following year, Busby's Manchester United faced Estudiantes. Estudiantes won 1-0 in the first leg at La Plata, to then draw 1-1 in the return fixture at Old Trafford. One red card was awarded to Estudiantes and another to Manchester United's George Best. Estudiantes' antics prompted Matt Busby to say "Argentineans should be banned from all competitive football". It seems hard to believe that the British complained of others being too aggressive.
The last straw came in 1969, when AC Milan were the team to face Estudiantes. The Argentineans were thrashed 3-0 at the San Siro in the first leg. Sormani, AC Milan's forward, remembers: "In the tunnel before entering the pitch they positioned themselves next to us. The captain gave a signal and they shouted at our faces. They were pumped". When AC Milan arrived in Buenos Aires, Estudiantes sought revenge- but in an overtly dirty way. It is reported that coffee was poured onto AC Milan players as they walked into La Bombonera. It is even said that the Estudiantes players spent their warm up kicking balls at their opposition. Prati, at one point in the match, fell unconscious after getting a kick in the back from Estudiantes' goalkeeper Poletti. Funnily enough, Poletti had to serve a one month prison sentence for his shows of aggression in the match. Nestór Combin, the Argentine-born French forward playing for Milan, was the unfortunate target in the match, since he was viewed as a traitor to the country. He finished the match with a broken nose and a broken cheekbone. Blood was splattered all over his shirt. To add to his miseries, Argentina's police arrested him on charges of desertion. He spent one month in prison before international pressure forced his release. AC Milan's torrid time in Buenos Aires was certainly not one which was easy to forget.
Ironically, Brazil had refused to allow teams to compete in any competitions involving Europeans in the late 60s, due to the aggression shown towards Pelé and the rest of the Brazil squad in the 1966 World Cup. Pelé himself, so infuriated by the aggressive tackles in England, had even hinted that he would not play in a World Cup again. So, the divide between South America and Europe had never been so palpable. This was all due to Europe's on-field aggression… no, South Americans' aggression… no, Argentina's… which? Perhaps, South Americans' spite of Europeans was justified. Brian Oliver, a freelance football journalist, probably best explains why the Argentines acted with such 'brutality'. He writes in an article for The Times in 2014: "A combination of factors over decades built up a well of resentment among Argentinians, who felt that Europe showed them little or no respect. There were disputes between the rapidly improving South Americans and the European "establishment" in the 1920s over payments to Olympic players. England would have nothing to do with the newly created World Cup, in 1930, nor did they play a South American team until the 1950s." Or so it was, Europe had diplomatically been mistreating South America, kicking and beating them up in a wiser manner.
This article may not seem like a very strong defence of a Club World Cup so far. A Club World Cup tournament seemed destined to fail. The problems that had impeded a Club World Cup from successfully taking place in the 20th century- disagreements over football calendars, issues with violence, disputes over finances, and uncertainties surrounding the organisations running the competition- are the same problems which would recur in the 21st century
The repeated failures at trying to bridge European and South American clubs had exhausted virtually everyone in the 1970s. Nevertheless, the Intercontinental Cup continued. It was skipped on a couple of occasions, either due to issues with regards to football calendars, or due to the fact Liverpool simply refused to play Boca Juniors in 1978. L'Équipe and Estado do São Paulo were newspapers who were rumoured to have volunteered to sponsor a potential Club World Cup. Nothing came of it. It took Toyota, the Japenese car company, to breathe some life into the competition, a significant step taken in the commercialisation of the game.
Games would be held in Japan, instead of in Europe and South America over two legs. The fans' game had now run away. The decision meant that these games lost their relevance in many ways. Japan was miles away from both continents, so disinterest for the competition certainly grew- especially on the European side, where football started to financially grow. There were games, such as Flamengo 3-0 Liverpool, which were certainly historic, yet still fairly unimportant in their contexts.
FIFA finally came up with a plan: a Club World Championship in 2000. They had become, by this point, a sort of commercial enterprise under Sepp Blatter's command. Therefore, they now had the muscle to support and independently organise a version of a Club World Cup. They had never wanted to get involved with the Intercontinental Cup, since other continents' organisations could not get take part in a competition played between South America and Europe. An implicit aim of FIFA was to run the Intercontinental Cup out of existence. So, FIFA elected Brazil as a suitable place to host this competition, which would finally introduce clubs from Africa, Asia, Australia and North America. Rio de Janeiro- the same place where a planned Club World Cup had already not gone to plan- was chosen as the city to host the majority of games. And so, the winners of the confederations' continental cups in 1998 and 1999 arrived in Rio in January 2000 to play in the world's first properly organised international club tournament.
Manchester United were one of those clubs invited to play in the Club World Championship. Two weeks before, they had been in Japan, beating Palmeiras 1-0. Now, they were in Rio de Janeiro, missing scheduled FA Cup fixtures. This sparked a controversy in the UK. The UK government had reportedly encouraged Manchester United to take part, in order for their 2006 World Cup bid to have a higher chance of being successful. In turn, this meant that Manchester United would not compete in the world's longest-running football tournament. As Martin Edwards, the club's CEO, put it: "We've given England an opportunity now… For one year the FA Cup has to give."
None other than Bobby Charlton claimed the competition was a 'a fantastic chance of becoming the first genuine world champions'. Yet, with the English press in meltdown over Manchester United not taking part in the FA Cup, it seemed that the Brazilian press equally did not take much liking to the team. As journalist and Manchester United supporter Andy Mitten explains in an article for FourFourTwo, the locals had perceived them as 'arrogant', since they did not run any charity events while in Rio. Instead, David Beckham and the rest of his glamorous team were found poolside, lounging about, enjoying the summer heat. Eurico Miranda, Vasco da Gama's vice-president who earns himself a whole chapter titled 'Tortoise in a Top Hat' in Alex Bellos's book 'Futebol: A Brazilian Way of Life', claimed that Manchester United 'came here thinking they were going to win easily'. He also blamed the British press for disrespecting the competition.
Dwight Yorke scored a late goal to equalise in a game against Mexican side Necaxa in the first group game. In the second, Manchester United were humiliated by the Vascaínos. Legendary forwards Edmundo and Romário spearheaded Vasco's attack that day. After Gary Neville clownishly gave away the ball twice in the first half, the two attackers capitalised. Vasco's third goal came from a playful piece of skill from Edmundo, further humbling the English. The huge Manchester United trailed Vasco da Gama 3-0 at half time. Gary Neville is quoted as saying that Romário is 'the scariest thing I've ever seen'. Eurico's own sentiments were clear: 'The Brazilians are the best players in the world, the Europeans do not even come close.'
After Real Madrid and Manchester United failed to beat their South American counterparts in this organised international competition, one could assume that European arrogance would have to give in. Perhaps, South American clubs would be treated with more respect. Thus, it would make sense for European clubs to want to compete with clubs from other continents in international tournaments. However, this did not happen. The next Club World Championship was scheduled to be held in Spain. Yet, FIFA's main marketing partner, ISL, collapsed that year, meaning FIFA did not go through with the event in 2001. Plans for another Club World Championship, as had happened in 2000, were virtually abandoned. The Intercontinental Cup, which was not a competition organised by FIFA, continued to run. Despite this, it was never a competition that was deemed to be important by European clubs since the violence of 1969. FIFA took ownership of it in 2005, and invited clubs from all other confederations in a re-designed 'FIFA Club World Championship Toyota Cup'. While the meet between Messi and Neymar in 2011 or Corinthians's win over Chelsea provided exciting moments for some football fans, the Intercontinental-Cup-in-disguise never truly succeeded. Consequently, FIFA's poor leadership effectively allowed for the European game to disproportionally advance, leaving other continents behind in the financial pyramid.
Despite the ill-informed individuals who believe the current Club World Cup trophy genuinely makes a team the best in the world, it has unfortunately not been universally accepted as the most important club competition at club level. Thus, perhaps FIFA's plans for a Club World Cup every 4 years should indeed be welcomed.
Calendar issues, technically speaking, should not be an issue. The competition is merely replacing the Confederations Cup in the football calendar. The Confederations Cup, we must recognise, was a competition that was played by some of the world's best players, such as Torres and Neymar. A Club World Cup seems far more suitable to be played than a decadent competition, as is the Confederations Cup.
For it to be respected by European spectators, enormous money prizes must be on offer. In the capitalist world of football, this is something that must be accepted. Anyone who adores watching competitions like the Champions League or the Premier League can make no arguments about a new Club World Cup, which allows a level playing field on an international scale. Although some rich clubs will only profit further from the added competition, meaning leagues in Italy or in France may continue to only be won by single clubs, other continents will hugely benefit.
By way of "case study", we can learn more about the financial situations for clubs in other countries, like Brazil. According to an extensive report by Brazilian bank Itaú, Corinthians have the third highest level of debt in the Brasileirão. São Paulo, who beat Liverpool in 2005, saw an increase in costs and a decrease in revenues in 2019. The rest of the league is similarly suffering financially. The ongoing pandemic has only worsened finances for the clubs mentioned. With a Club World Cup, clubs in Brazil, as well as in other footballing countries across the globe, can compete with Europe in a fair way should they win their continental cups. This would mean that there would be less of an appetite for young players to move to Europe in order to play at the highest level. As a result, the quality of football will increase in the Americas, Africa, Asia, Australia and Oceania. In addition, European clubs will also have a smaller pool of players to choose from. The possible increases in inequalities within countries should not be an obstacle that stops the decreases in inequalities across the world's continents.
So many times, FIFA have failed to take ownership and create a credible international club tournament which allowed a level playing field for clubs from all corners of the planet. The shying away from the Copa Rio or the Intercontinental Cup, in addition to the failure in organising another Club World Cup tournament after 2000, meant FIFA have failed the majority of its member states. Perhaps, more of the Saudi investment into the Club World Cup should be directed towards grassroots football. However, a competition of this magnitude will naturally help young players in other continents, just as big finances in Europe help young players as they have access to play at big academies. A competition of this level, especially when a corrupt institution like FIFA are organising it, will have its flaws. Yet, aspiring clubs across the world should at the very least have the chance to challenge Europe's elite clubs.
The history presented in this article should not be taken as evidence to show that a Club World Cup is destined for failure. Rather, they should be taken as points that FIFA and other organisations learn from. For example, while the Argentine violence might still exist, football hooliganism does too. The World Cup in Russia proved to be safe and secure, albeit using questionable security measures. On the field, refereeing has made significant advancements since the 60s, so possible aggression from any player will not go unnoticed. Moreover, with the structure of a Club World Cup that would only happen every four years, it is easier for loyal fans of football clubs to plan and travel to different countries to watch their team play, instead of travelling to Qatar or Japan. Tens of thousands of Peruvian fans travelled across the world to watch Peru play in Russia. As the old saying goes, "Leeds would take more".
But, for now, Football Manager's uncanny realism does not hold true. The pandemic has forced for the football world to focus on more important matters. Dreams of a fair global game are distant. It is unknown when the Club World Cup will actually be. However, it is of utmost importance that football communities recognise that while top European clubs flourish, clubs in other continents suffer.
Should European clubs refuse to play in a Club World Cup, mistakes of the past will be repeated. Further divisions between Europe and the rest of the world will grow. Let not Europe be too proud and dismiss other countries' footballing identities, just as England once did by not participating in a World Cup up until 1950. International club tournament are a significant part of football's heritage. English clubs' tours overseas, as they exported the "beautiful game", were crucial for the game to grow globally. So, common agreement must be found at an international level so that football's heritage is rightfully preserved. It is time for Europe to self-reflect for the sake of the global game.